Decorative Candles
These candles can either be burned (follow our burning instructions if you want to preserve the beauty of our candles for years to come), or they can be pre-drilled at your request to accommodate an LED for convenience. They come in different sizes and shapes, see each product page for a more complete description regarding size and design. We are proud of our original designs that you will not find anywhere else!!
Dutch Garden®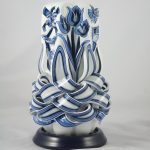 We are most widely recognized for our Dutch Garden® Candles!  Click image to expand.
Cathedral Cut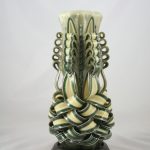 Our Cathedral Cut candle has the same full basketweave-like bottom that we are so well known for, with elegant cascading curls at the top, and spirals between the curls.  Click photo to expand.
Cathedral Twist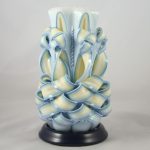 The Cathedral Twist candle has our signature basketweave-like bottom, topped with a "twist" of cascading petals.  Click photo to expand.
Monarch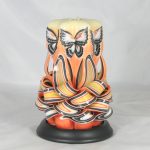 The monarch butterfly may be the most widely recognized of all American butterflies with its distinct orange, black and white wings, and is the inspiration for this unique and original design.  Click photo to expand.
Seascape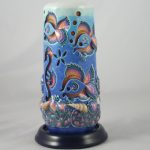 An underwater scene including a dolphin, fish, seahorses and turtles are depicted on our seascape candles. Real seashells finish off the unique design.  Click image to expand.
Tulip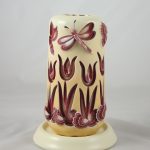 Holland is famous for it's tulips, and the tulip is the star of this whimsical candle. A garden of tulips surround the base of this round candle in a dazzling array of colors while butterflies and hummingbirds dance in the air above.  Click image to expand.
Daisy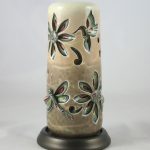 Hummingbirds, dragonflies and decorative swirls accompany the four large daisy-like flowers on this candle. The petals of the daisies are pared away to provide abundant glowing when the candle is lit.  Click image to expand.
Flamingo and Palm Tree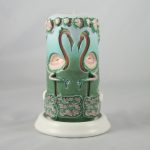 Take a mini-vacation every time you look at this tropically themed candle! Perky flamingos and palm trees swaying in the breeze will remind you of lazy days in the sun. Look close to see the coconuts in the trees are actually seashells!  Click image to expand.
Angel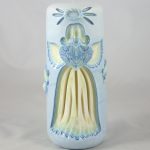 This heavenly candle features an angel on the front, a cross on the back, accompanied by two flying doves. Simple and elegant.  Click image to expand.
Elephant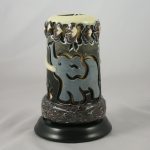 An elephant with its trunk raised is said to be good luck. Our lucky elephants meander around this charming candle, topped off by a floral border.  Click image to expand.