Holiday Candles
These candles can either be burned (follow our burning instructions if you want to preserve the beauty of our candles for years to come), or they can be pre-drilled at your request to accommodate an LED for convenience. Candles in this category are often enjoyed at specific times of the year. We have an assortment of Christmas type candles, but have also more recently designed Thanksgiving and Halloween candles. Our Patriot candles are also in this category because they are so appropriate for Memorial Day, Independence Day, Veteran's Day or any All-American celebration!
Christmas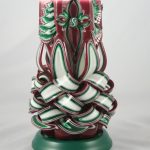 Our festive Christmas candles are in demand year-round. Their six designs include a candy cane, Christmas tree, angel, bell or bow, peace doves and a cross.  Click image to expand.
Candy Cane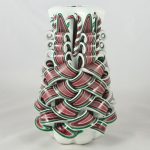 An alternative to our more elaborate Christmas Candle, the Candy Cane candle has the full basket weave bottom, only more of it! All topped by Candy Canes, a real treat!  Click image to expand.
Snowman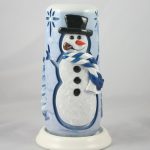 Our festive snowman candles are a seasonal favorite. The design features a traditional snowman with top hat, pipe and winter scarf, together with a row of pine trees along the back.  Click image to expand.
Patriot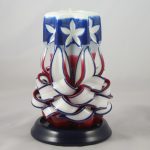 A design based on Old Glory, our Patriot Candle engenders a feeling of pride. The prominent star cutouts glow brilliantly when the candle is lit.  Click image to expand.
Halloween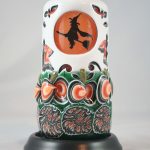 Our Halloween candle has a pumpkin patch, a scary tree, ghosts, bats and a witch flying across the moon!  Click image to expand.
Thanksgiving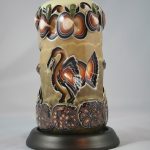 Gobble Gobble!  Our Thanksgiving candle boasts a fall theme of turkeys, pumpkins and corn stalks.  We make it up in the fall colors of orange and brown.  Click image to expand.